Never have sock knitting crossed my mind, even after seeing other knitting socks away. I have always been skeptical that, who would want to wear wool on their feet in the midst of 34 degrees C??

Armed with sock yarns from my wonderful SP-oiler, i started google-ing for basic sock patterns. and i decided to start with here. however, I'm currently stuck with the short rowing of the heel.

Here's a few pics of my progress.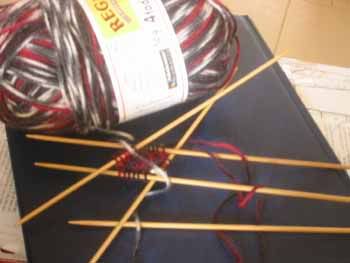 This is achieved after frogging several times. *sigh x 69346596349*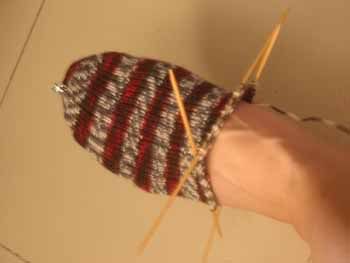 Slightly more than 24 hours later.

I shall summarise a little of my meetup with the KL knitters 2 weekends ago. (Oh my gosh, i didn't realise that time passes so fast even when one's not holding a job.)

The first thing which impressed me was the traffic in KL. I have never experience jams at 10pm+ in SG. The coach driver decided to stop like 2 blocks away from the terminal and had all passengers to alight. thank goodness i had been to KL before and Vanessa was there to pick me up. a BIG Thank You to Van for letting me bunk in with her during my stay in KL. <<< HUGS >>>

The next day, I met up with the majority of the gang. I have no photos to show, cuz the waiter wasn't well versed in photography. anyways, pics can be found here and here.

Not much shopping done, but i still scored 2 tees (Thanks to Van again!) and 3 pairs of sandals.