This particular cast on method is one of the many which I've spent many hours trying and google all over the internet for solutions. I believe that pictures speaks a thousand words. So I hope this tutorial will help those who are baffled by the special cast on method or the worded instructions did not help at all.
Full pattern instructions can be found in Interweave Knits Fall 2004.



I'm using gray as my waste yarn and purple as the main color. Using a crochet hook, ch 4. i guess no one has problems with this part.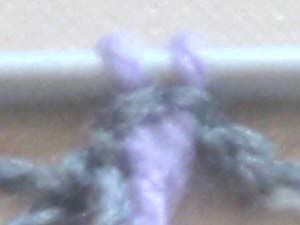 On the underside of the crochet chain, there's 4 bumps. pick up 2 stitches as indicated.



Knit 6 rows based on the 2 picked up stitches. Knit 1 more row



This is the part which I have the most difficulties trying to understand. pick up and knit garter ridge 1, then 2 and 3. Now you should have 5 stitches on your right hand needle



Unzip the waste yarn to expose 2 loops, place them one the left needle and knit them.



And finally you have a total of 7 stitches

Post your comments
HERE